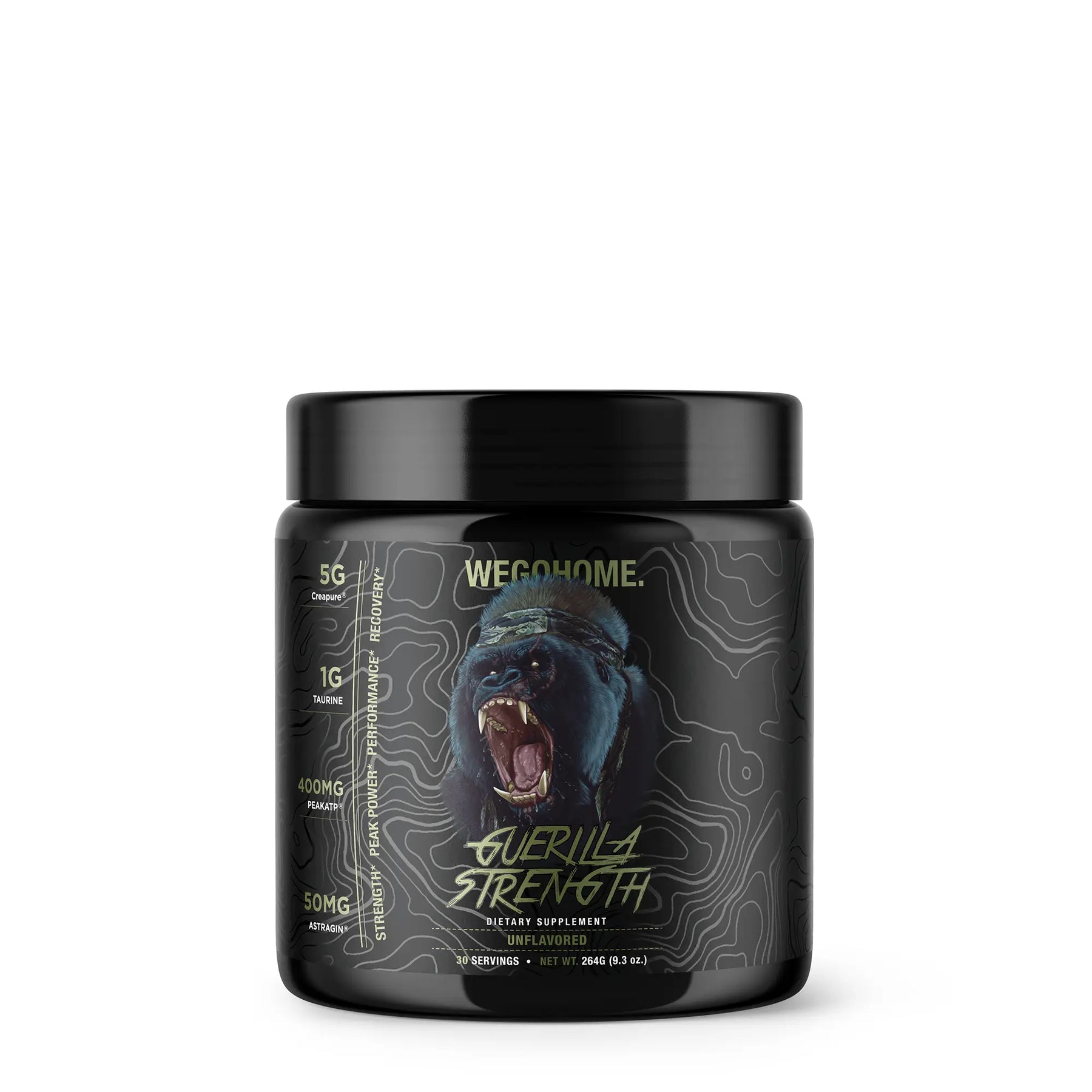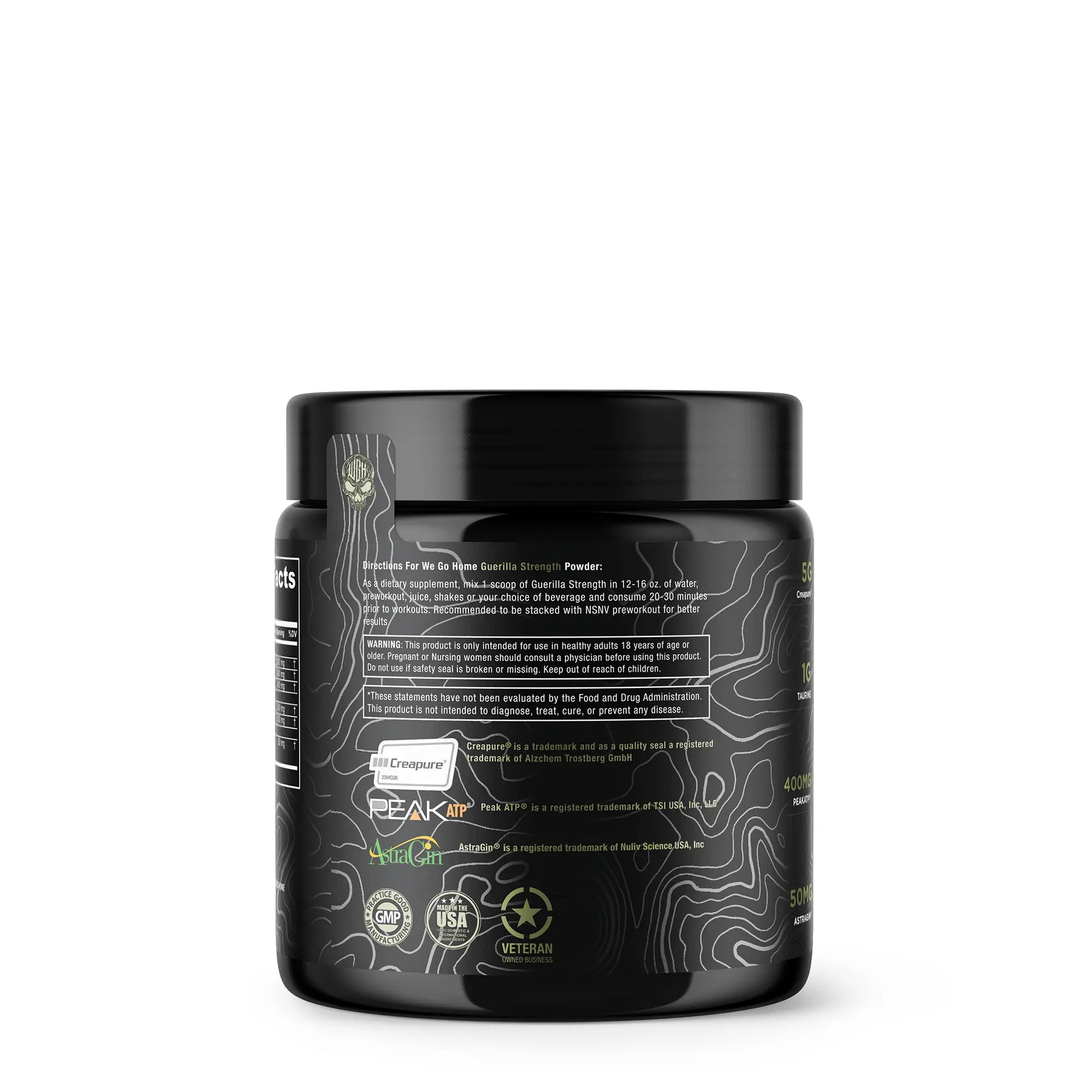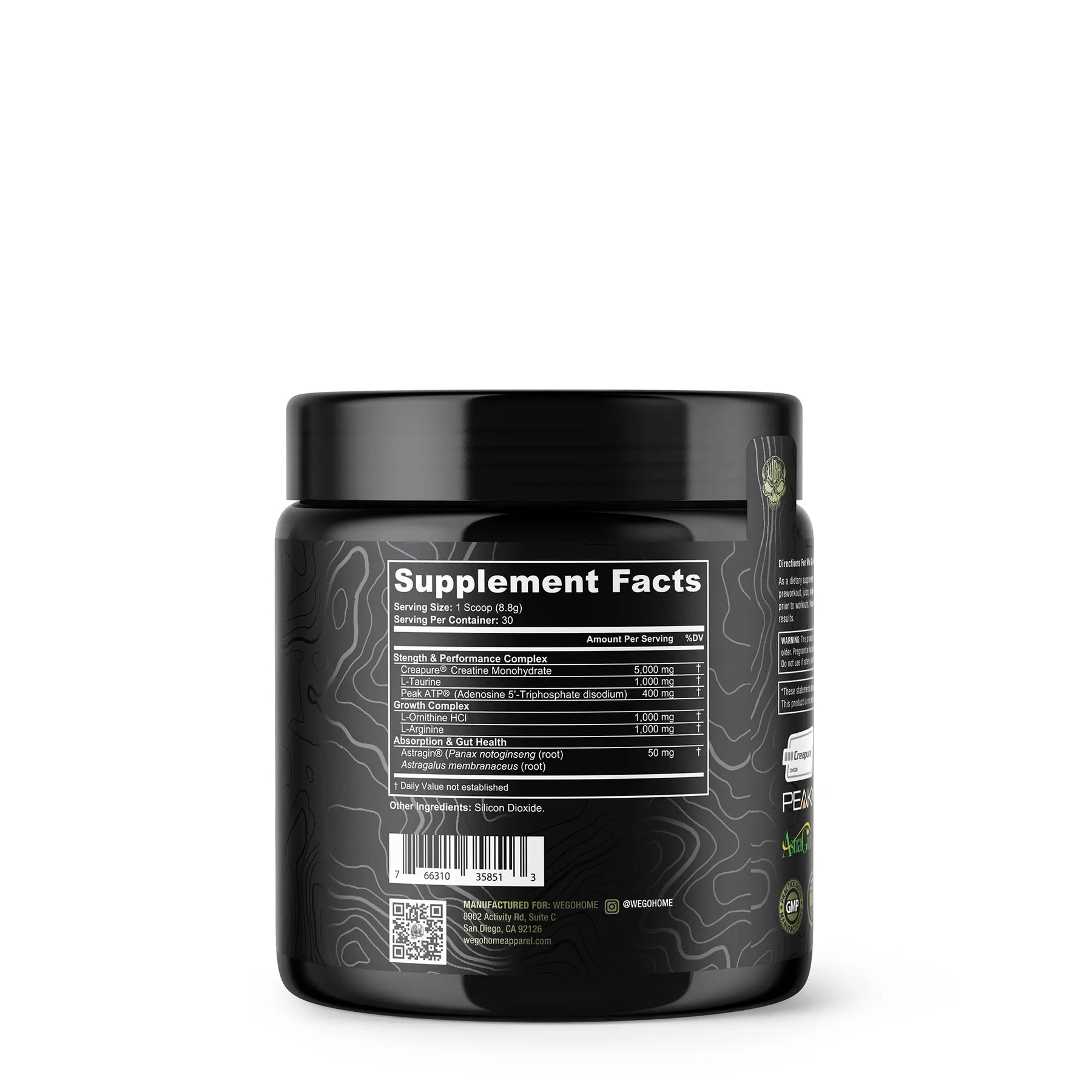 Creatine Complex
Guerilla Strength
Introducing Guerilla Strength, a revolutionary creatine formula by We Go Home Supplements that promises to boost your strength, power output, performance, and recovery to new heights. With our unique blend of ingredients, we are confident you can perform at your peak.
THE FORMULA:
Creapure

®️

is the most widely studied form of creatine and is proven to be safe and effective Its Been shown to Help stop the age related loss of muscle mass, strength, improves mental activity, Brain function, sleep (better quality of sleep and decreased sleep demand), antioxidative property, bone health. Creatine also helps with power bursts output not just with lifting weights but also with all

Sports. Which means everyone can benefit from Creatine use even non athletes!*

Taurine Has been shown to help increase hydration and electrolytes . Taurine also helps with overall performance increasing the ability to train longer and harder.*

PEAK ATP® is a clinically studied and patented form of adenosine 5'-triphosphate (ATP) disodium shown to improve athletic performance and body composition by increasing muscular excitability, blood flow and recovery.*

Astragin

®️

Has been shown to support and increase the absorption of nutrients, such as amino acids, glucose, and vitamins and more.*

L-Arginine & L-Ornithine are amino acids that are responsible for nitric oxide and protein synthesis, making it a good choice for athletic individuals. It may also boost blood circulation and improve workout recovery times while amplifying the natural detox effects of the body.*
Arginine and Ornithine are used together frequently due to their involvement in the secretion of growth hormone.
Created for the community by those in the community.
Directions For We Go Home Guerilla Strength Powder: As a dietary supplement, mix 1 scoop in 10-12 oz. of water or your favorite beverage. May be added to NSNV pre-workout 2.0 for best results. Shake well and consume.
* These statements have not been evaluated by the Food and Drug Administration. This product is not intended to diagnose, treat, cure, or prevent any disease.
Always consult with a qualified healthcare professional prior to beginning any diet or exercise program or taking any dietary supplement. The content on this website is for informational and educational purposes only and is not intended as medical advice or to replace a relationship with a qualified healthcare professional.
***WARNING*** Returned products must be sealed and not tampered with in any way. As the products are health food consumables and regulated by the appropriate Canadian or U.S. authorities and full details of the product including the complete list of ingredients are shown on our website, we regret that product cannot be returned due to flavour and consistency etc.