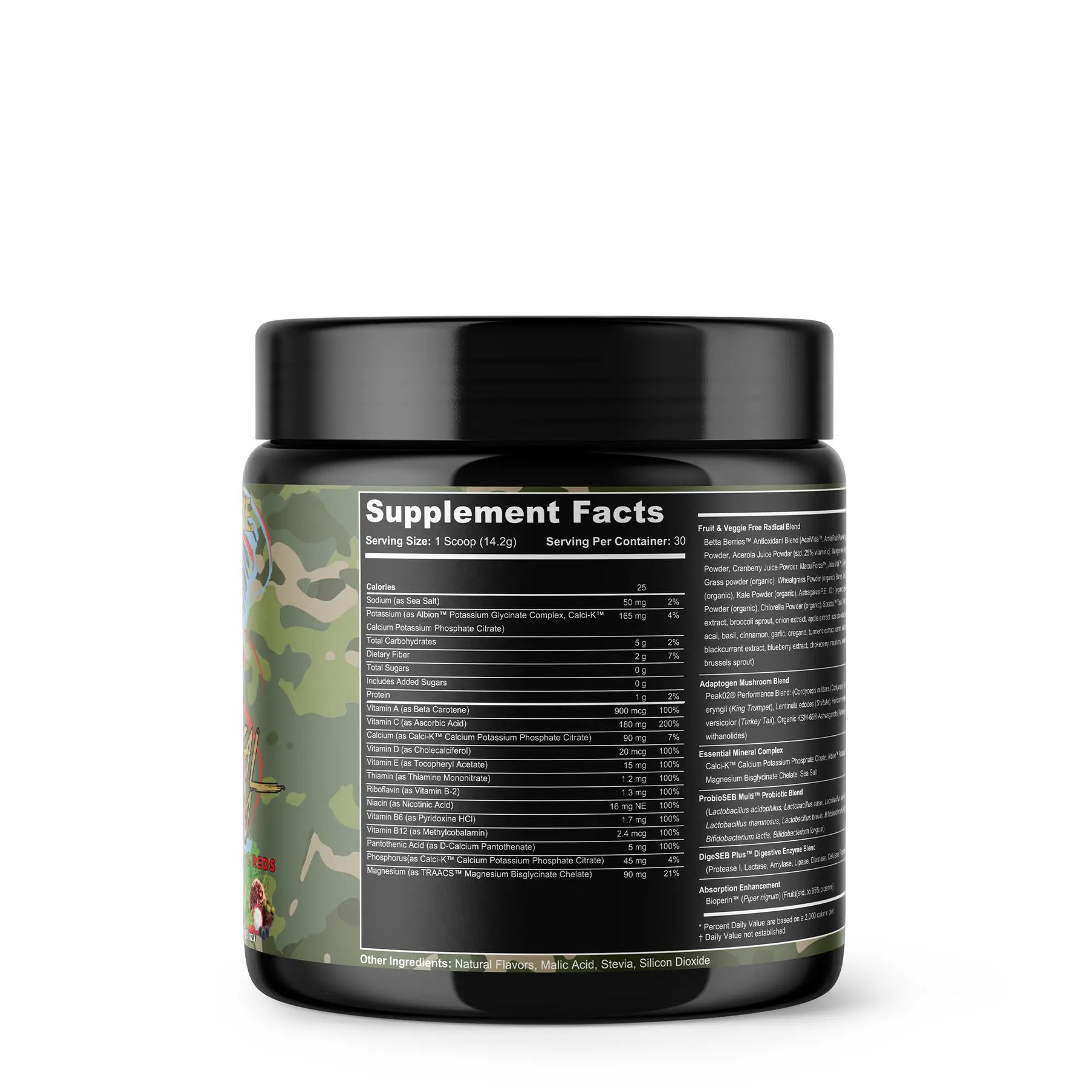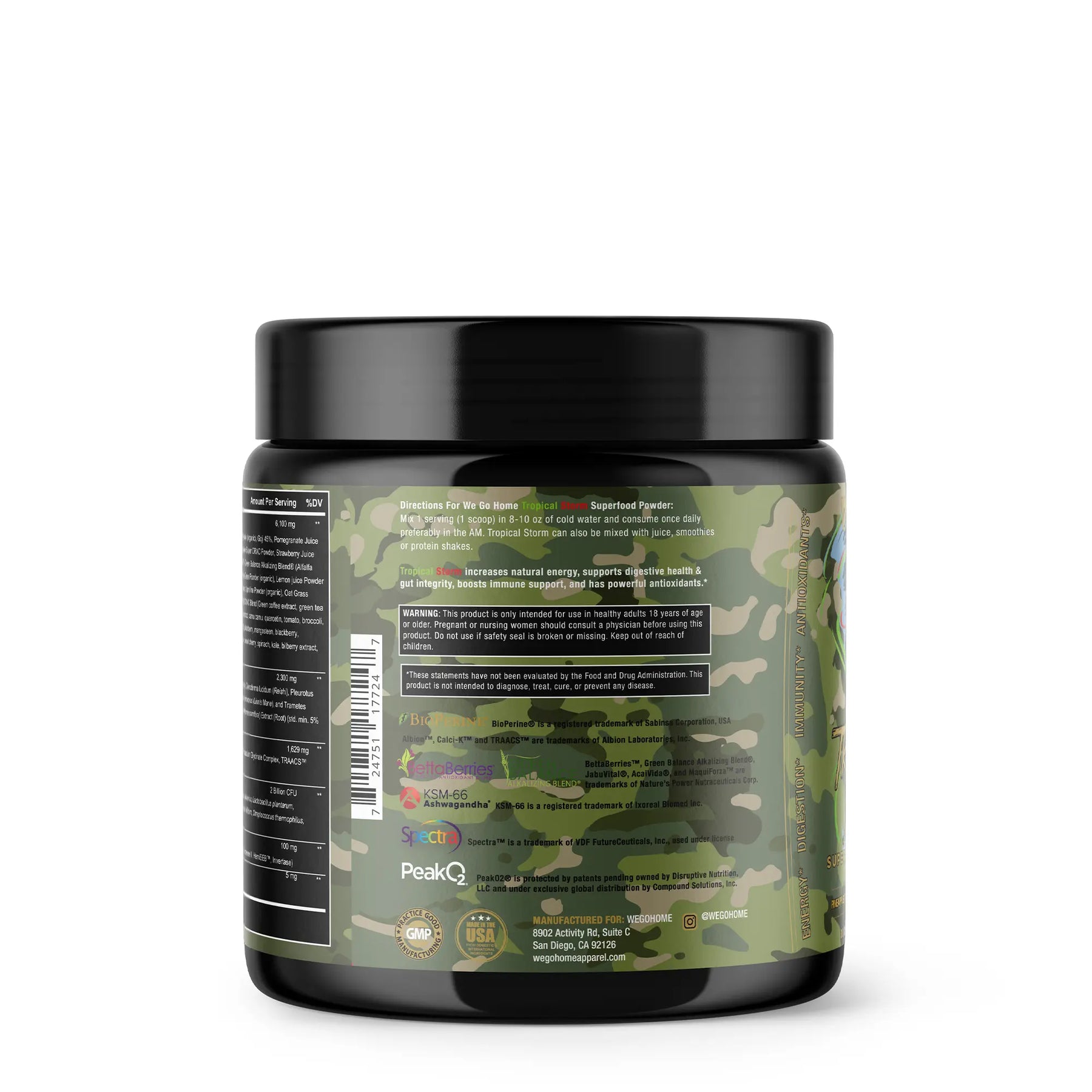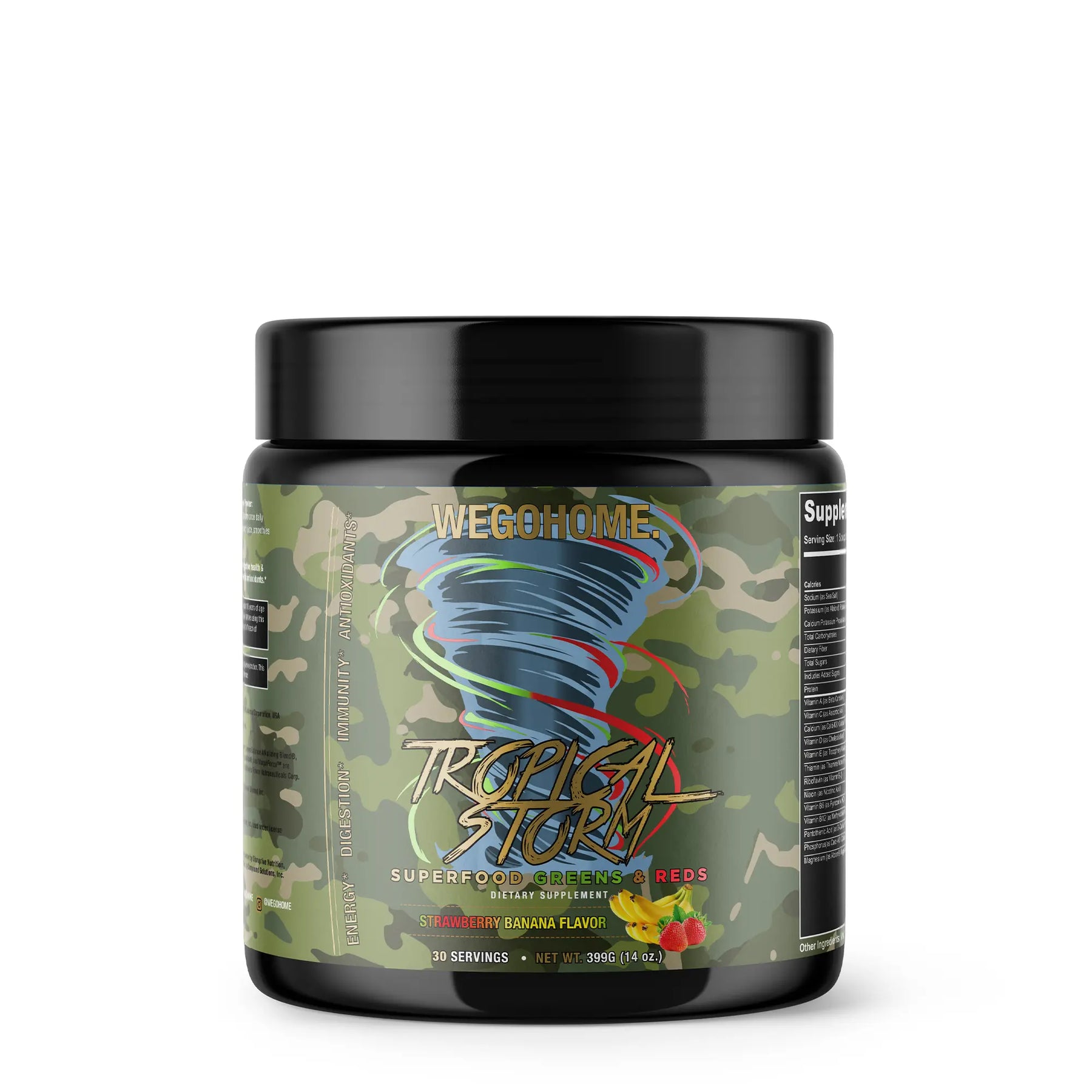 Superfood Greens & Reds
Tropical Storm
"Don't eat your greens & reds, drink them"
Tropical Storm 
Storm: n. /stôrm/ - A serious disturbance of any element of nature.
 THE WHY
Our community of Special Operations, LE/SWAT, Fire, and First Responders demands the best to perform at our peak AND stay healthy! Thus, we proudly created a first of its kind supplement to meet those demands! We combined both super food greens AND reds, then infused it with the powerful flavors of pineapples, coconuts, and goji berries, to form a supplement so amazingly extreme and delicious, it rightfully deserves to be called Tropical Storm!
 Fact: We do NOT eat adequate fruits and vegetables every day in our line of work thus causing us to be more fatigued and hindering our ability to recover adequately from our daily physical rigors. Tropical Storm is a necessary supplement that delivers crucial micronutrients, antioxidants, and vitamins that our body needs to perform on the battlefield, on patrol, while fighting fires, and for every day physical training!
With ingredients that boost our mental and physical performance such as organic ashwagandha (KSM-66®), PeakO2®, probiotics (ProbioSEB Multi™), Spectra™, digestive enzymes (DigeSEB Plus™) , essential mineral complex (TRAACS®) and BioPerine® for absorption enhancement. This nutrient rich storm can be easily taken at any time with cold water as a refreshing beverage or added to your favorite protein/smoothie!
Cutting corners while putting our lives on the line can have dangerous repercussions, so don't cut corners with your health and diet. We didn't with this supplement, thus creating the perfect storm, Tropical Storm!
Our Greens/Reds are NP Nutra's Triple-T Verification®  This program brings customers trust and peace of mind with pure, traceable ingredients of the highest quality and purity, and processed at certified state-of-the-art manufacturing facilities.
Created for the community by those in the community!
TROPICAL STORM BENEFITS: 
Fight Free Radicals*
Decrease Inflammation*
Increase Natural Energy*
Mental Clarity*

Improving digestion and increasing nutrient absorption with our digestive enzymes*

High in Antioxidants*
Help promote enhanced memory and cognitive function*
Help promote endurance, and muscle recovery rate*

Supports healthy gut immune function*

Increase Muscular Performance*
Improve Blood Circulation*
Elevate Endurance*
Boost Immunity*
Support Blood Alkalinity*
Packed with vitamins, minerals and nutrients*
NON-GMO
Suggested Use:
Mix 1 serving (1 Scoop) in 8-10 oz of cold water and consume once daily preferably in the AM. Tropical Storm can also be mixed with juice, smoothies or protein shakes.
Tropical Storm consists of six adaptogenic mushrooms grown in the U.S.
These mushroom strains consist of Cordyceps, Reishi, King Trumpet, Shiitake, Lion's Mane and Turkey Tail. They belong to the large category of non-psychoactive mushrooms.

* These statements have not been evaluated by the Food and Drug Administration. This product is not intended to diagnose, treat, cure, or prevent any disease.
Always consult with a qualified healthcare professional prior to beginning any diet or exercise program or taking any dietary supplement. The content on this website is for informational and educational purposes only and is not intended as medical advice or to replace a relationship with a qualified healthcare professional.
***WARNING*** Returned products must be sealed and not tampered with in any way. As the products are health food consumables and regulated by the appropriate Canadian or U.S. authorities and full details of the product including the complete list of ingredients are shown on our website, we regret that product cannot be returned due to flavour and consistency etc.